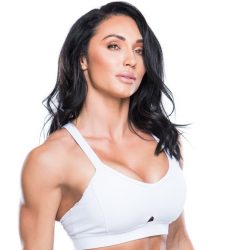 Domin8 Coach
– Monique Kabel
Certified Personal Trainer, Nutrition Coach
Online & Personal Training [Kelowna, BC]
Credentials:
Alive Academy – Nutritional Science Cert.
ISSA- Sports Nutrition Cert.
NFPT- Personal Training Cert.
Why work with Monique:
Monique has been heavily involved in the health & fitness industry for years. With almost a decade of experience with personal training, and nutrition. She has built her coaching business from the gym floor up. Starting in World Gym – Fort McMurray, AB as a part-time gig to "get use" from her education, and transpired into her full-time career and life passion.
She started training with Team Domin8 in 2010, when she met Master Trainer- Nathan Harewood, back stage at her first fitness competition. They hit it off right away and he soon became both her coach and mentor.
Monique now trains clients from all over the world using her app which allows her clients to not only have access to their customized workouts, meal plans, progress tracking and exercise video libraries, but access to their coach at the tips of their fingers. Allowing anyone from anywhere to work with a professional coach.
Services Offered:
Online Personal Training: 3-12 month packages (see website for prices)
Transformation Challenge- The Bikini Bliss Challenge: Next Start Date: February 19, 2019
Ebooks: Available for purchase on website (www.moniquekabel.com)
Custom Meal Planning: Available for purchase on website
Competition Prep: TBD
Contact information:
info@domin8.ca
Social Media:
FB: Monique Kabel Fitness
IG: @monique_kabel
Twitter: @monique_kabel
Youtube: Coming Soon