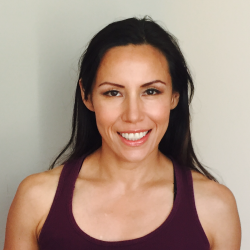 I am working on my 6th bikini competition prep, my 3rd WBFF show.  20 years ago I got into bikini contests and beauty pageants, which later lead to fitness competitions.  In 2011 I was titled the first Mrs. BC.  As a fit mom in her mid 40s, I mastered self-care with fitness, nutrition and skin care.  I'm writing my e-book's first draft covering ways to look young.
I can create a personalized strategy for you to achieve your fitness goals, but you have to do your part.  Check in on time, follow the training and nutrition plan to the best of your ability and simply be honest and open to change.  I love to work with dedicated people.
I enjoy working with both men and women for contest prep or the off-season.  This includes positive mindset coaching.  If you don't compete but want to look and feel your best, I'm skilled with photoshoot prep, getting vacation ready and lifestyle.
Using a holistic approach, I take into consideration your vitamin and mineral intake, stress levels, children and family, and career obligations.  I understand a busy family life, while also working on fitness goals.
CREDENTIALS:
Domin8 Coach
Elite Trainer
Bodybuilding Specialist
Fitness Nutritionist
Certified Fitness Trainer
SERVICES OFFERED:
Online Competition Prep
Online Lifestyle or Off-Season Coaching
Speciality diets:  Vegan, Vegetarian and Intermittent Fasting
Bootcamp (Victoria area)
Instagram:  @carla.gia.wayes
Facebook:  4 Diamond Fitness
Email: info@domin8.ca